"PADMASHRI"
DR. SIRKALI G. SIVA CHIDAMBARAM
--THE LEGACY CONTINUES--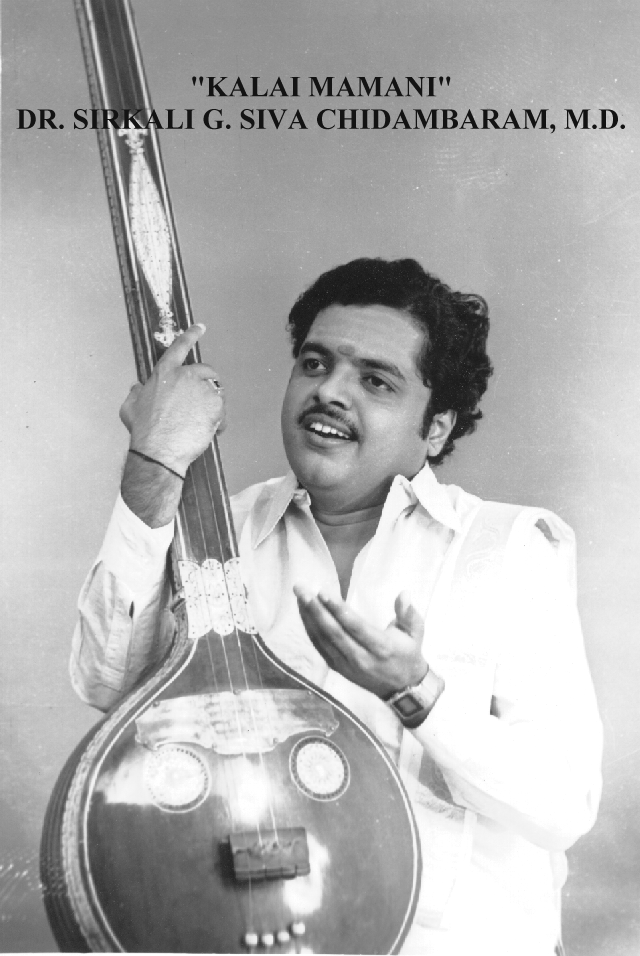 Dr. Sirkali G. Siva Chidambaram is the illustrious son of Carnatic Music exponent trailblazer and colossally popular vocalist, "Isai Perarignar" "Padmashri" Dr. Sirkali Govindarajan. Apart from being a musician, he is also a physician, with a Post-Graduate degree in Internal Medicine.
CHILDHOOD:
He evinced keen interest in music right from a tender age. He inherited the musical traits, under the able guidance of his father, and the rigorous whip-cord training in classical music from his 'guru' Sangeetha Vidwan B. Krishnamurthy, he gained more knowledge about the nuances and subtleties of classical music. He has been blessed by eminent personalities as a child prodigy in music. His interest in music was so wide that he not only graduated in classical carnatic music, but also from the Trinity College of Music, London in the Pianoforte.
MUSICAL CAREER:
The Physician/Musician has carved a comfortable niche for himself in the hearts of the elite and the masses. His greatest asset is his wonderfully vibrant, widely ranging, magnetic voice over which he has perfect control in all three octaves. Expression of the soul of the song with clarity of the diction is his specialty. He is a Popular Performing Artist, who has sung all over the country, as well as the world in all prestigious occasions. The purpose and content of his concerts are oriented to the society and its betterment through music, enriching the firmament of South Indian Music. His well-planned fulfilling concerts are lively and equally extempore with new compositions to commemorate the occasion in various national and international languages. His concerts, noted for its variety, have reached every nook and corner of this world. Along with his father and now through his solo recitals, he helps spread the love for Indian Classical and Devotional Music. He is a most-wanted classical music and light music vocalist with his credibility as a graded artist of All India Radio and Doordarshan. He has also established his forte as a music director, devotional, contemporary and folk music singer. He has also proved his talent as an accomplished Actor/Singer, with numerous roles in Indian Movies, TV-Doordarshan, and Satellite Channels, to his credit, making a mark, by playing roles that spread the message of language, culture and tradition of our Nation, in the roles of ancient sages and contemporary professionals.
CONCERT TOURS:
His concert tours abroad, with his father and later as a soloist, have earned him the name of Cultural Ambassador. He has performed for packed audiences in U.K., U.S.A., Canada, Australia, New Zealand, France, Germany, Denmark, Switzerland, Sri Lanka, Malaysia, Singapore, the Middle East, Seychelles, and Mauritius. He has also visited Thailand, Philippines, and Nepal on Cultural Conventions. His recent visit to Australia and New Zealand receiving honors from Australian Parliamentarians deserves special mention. His international multi-lingual songs in English, French, Creole, Doich-German, Spanish and Sinhalese are an expected favorite with his international audiences. Following in the footsteps of his father, his concerts have been towards the upliftment of culture through fund-raising efforts of temples, schools, rehabilitation, educational and scholarship funds, and cultural organizations. To detail a few:
Australia/New Zealand Concert Tour:
Dr. Sirkali Siva Chidambaram & troupe went on a concert tour at various centers all over Australia, covering Sydney, Canberra, Melbourne, Brisbane and New Zealand at Auckland. This concert tour, which was dedicated for friendship, devotion and world peace, was entitled "Isai Vasantham 2001".
At Canberra, Hon. Shadow Minister for Immigration, Mr. Con Sciacca presided over the concert. Impressed with the overwhelming performance and response, he invited Dr. Siva Chidambaram & his troupe to the Parliament the next day. He made a special mention in the Parliamentary Records honoring Dr. Siva Chidambaram.
US/Canada Tour:
Dr. Siva Chidambaram launched on a tour of the United States and Canada in the Summer of 1999 to spread religion and culture. He sang at:
the Kumbabhishekham Celebrations at the Murugan Temple of North America in Washington, D. C.
the installation of Murugan statue at the Satyanarayana Temple at Connecticut
the installation of the Siva complex at the Malibu Siva Vishnu Temple
To bring about consciousness of Ancient Tamil Literature and Tamil Isai, he performed for:
New York Tamil Sangam at the Flushing Vinayagar Temple
Chicago Tamil Sangam at the Aurora Balaji Mandir
Austin Tamil Sangam at University of Texas at Austin
Bharathi Kalai Manram and Sri Meenakshi Temple at Houston
Sri Lankan Indian Society at Fort Lauderdale, Florida
The grand 25th anniversary celebrations of FETNA and TNF at the Atlantic City Convention Center
---
RECORDINGS:
With a place in the hearts of music lovers all over the world, he has given numerous recordings, TV and Radio presentations, and film playback songs as Posterity Recordings for the British Broadcasting Corporation (BBC), Sri Lanka Broadcasting Corporation-Rupavahini, International Broadcasting Corporation (IBC-London), Asian TV network of Canada, the Sun TV, and the Asia Pacific Channels of Malaysia and Singapore. He has numerous records, cassettes, compact discs, and video tapes, on contemporary and traditional literary subjects released through highly reputable music companies like HMV SaReGaMa, Sangeetha, Indu Musik, Raj Melodies, Dreams Audio, etc. His recordings are numerous and are of a wide range of collections including classical, light classical, devotional and traditional lyrics--from contemporary poets to traditional Alwars, Nayanmars, Arunagirinathar, and many such composers, who were exponents of the Hindu Religion and Philosophy. His recent series of "Music for Meditation and Relaxation" incorporating chantings to the current music trend is released by Dreams Audio.
---
AWARDS:
Dr. Siva Chidambaram has to his credit numerous titles and awards, in appreciation of his music, by several cultural organizations.
PADMASHRI award by the Govt. of India - 2008
SENIOR FELLOWSHIP AWARD - a national level award by the Department of Culture, Govt. of India to Dr. Siva Chidambaram for the development of musical research.
THE MUSIC ACADEMY AWARD FOR BEST RENDERING - award received from the Chief Guest Mr. Shankar, Chief Secretary, Govt. of Tamil Nadu, in the presence of Mr. T. T. Vasu, President of Music Academy and its office-bearers.
The annual December festival award from Karthik Fine Arts - "TAMIL ISAI VENTHAR"
New Delhi Tamil Sangam honored with the title of "GAMBEERA GANA KALANIDHI"
MUTHAMIZH PERARIGNAR--Tamil Isai Sangam, Raja Muthiah Mandram, Madurai
KALAIMAMANI--An award from the Tamil Nadu Iyal Isai Nataka Mandram, an equivalent of the State Government Academy Awards.
KALA RATNA-National Award to commemorate the Year of the Youth
"Innisai Surabhi" by Melbourne Tamil Sangam
"Tamil Isai Venthar" by Victorian Tamils in Australia
"Vengala Gaana Boopathi" for "Isai Vasantham 2001"
South Indian Rotary Conference at Madurai - Best Singer Award
South Zonal Conference Lions Club of Trichy - Award for Musical excellence
Innisai Selvan - The Gramophone Company of India, Ltd.
Thenisai Thendral - Arulmigu Siddhi Vinayagar Kumbabhishekam Committee
Senthamil Isai Selvan - Switzerland Pongal Festival Committee
Ezhisai Ilavarasu - Dravidar Kazhagam
Ilaya Isai Mani - Pazhayakottai Muruga Bakthargal Sangam
"Raja Sir Annamalai Chettiar Award" from Annamalai University
Deiveega Then Mani - Nemili Iraipani Mandram
Innisai Mamani
Pann Isai Arasu - Thiruvaiyaru Tamil Isai Mandram
Tamil Isai Thendral
Pavendar Bharathi Dasan Award
Shri Rajiv Gandhi Award from the Tamil Nadu Youth Congress
Ezhisai Gaana Mani
Innisai Vithakar--The Hindu Temple Society of North America
Bhakthi Isaimani Kavalan--Quebec Saiva Mission, Canada
Nadha Nayagan--Tamil Association of Greater Delaware Valley, U.S.A.
Vengala Kural Vendhan--The Murugan Temple of N.A.--Maryland, U.S.A.
"Tamil Isai Selvar" award presented by Aarkadu Amirthavarshini Sangeetha Sabha
"Innisai Surabhi" award presented by Ilangai Kalaignar mandram of Canada
"Gaana Isai Vendhan" award presented by Arulmigu Muthu Mariamman Thirukkovil
"Arutpa Isaimani" award presented by Thiru Arutpa Isai Sangam, Vadalur
"Innisai Maruthuva Semmal" award presented by Arima Kudumbam, Nemili
"Sangeetha Kala Rathna" awarded by Sri Ragam Fine Arts in the music festival
"Isai Gnana Varithi" award presented by Madurai Arasa Maram Pillayar Kovil Committee
"Sangeetha Samrat" award presented by Mayiladuthurai Radha Kalyana Utsavam Committee
"Janaranjaga Sangeetha Vidvamani" award presented by Karaikkal Saptaswara Sangeetha Vidwath Sabha.
"Arul Gnana Mani" award presented at Aadhi Punnainallur Mariamman Temple, Thanjavur
He was honored by the Indian Medical Association and Association of Physicians of India, the Bharathiya Vidya Bhavan of London at their Golden Jubilee Celebrations, ICCR deputation to France and Mauritius, with citations, State Sangeet Natak Academy, Tamil Isai Sangams of various cities and many other organizations.
---
HIGHLIGHTS:
He is always a performer with 'the song of the moment'. To mention a few:
Along with his father, they composed and presented a special marriage song in the Indian tradition for the Royal Couple--Prince Charles and Lady Diana, by the BBC.
"Kalaignarin Kuraloviyam Kaattum Navarasam," a Dance Drama, starred Dr. Siva Chidambaram with choreography by Dr. Sindhoori and music by Thiru M. S. Viswanathan. Dr. Kalaignar had high praises for Dr. Siva Chidambaram in his role as Thiruvalluvar at the national premiere in Chennai. 'Ulaga Natya Peroli' Padmini appreciated the abhinaya of Dr. Siva Chidambaram during the show in Hollywood, USA.
Kavitalayam and SivaRanjini Group of Erode conducted a Gala Concert & Felicitations Programme for Dr. Sirkali Siva Chidambaram. The programme was greeted with an overwhelming response. Dr. Siva Chidambaram and his wife, were honored on stage. Dr. Siva Chidambaram was presented with a floral crown and a silver sword, as a sign of victory for his music.
For the Free Nelson Mandela Campaign of the BBC, with the song to represent India.
Special songs in the Biggest Sporting Event in Indian history--the ASIAD.
In a cultural venture by the UNESCO at Paris, with Michael Jackson and other international artists for the Children of Africa.
Outstanding Youth of the Year, awarded by the Jaycees, and the Outstanding Young Indian Award-a National Award.
Member of the Advisory Committee for Youth Welfare of the Government of Tamil Nadu.
Appointed to the Senate and the Board of Studies for the Faculty of Fine Arts, at Annamalai University.
Member of the Board of Studies, Faculty of Fine Arts and Music at the Tamil University at Thanjavur.
Member of the Advisory Committee, the Institute of Integrated Health Studies.
Jury member for Cinema Awards of the Press, music channels, music selection boards and television programs nationally and internationally.
During the Adhithanar Birthday Celebrations (1997), the Kadhiravan and Maalaimurasu Press gave Dr. Siva Chidambaram a special award, "Adhithanar Saadanaiyalar Viruthu," for Tamil Isai.
During the Golden Jubilee Independence Day Celebrations:

On August 14th, 1997:
--A special concert of National Integrity Songs
--Rendered patriotic songs with the Cine Orchestra conducted by prominent music directors of film industry

On August 15th, 1997:
--The South Zone Cultural Center organized a grand event at Seerani Arangam at the Marina Beach, in the presence of Tamil Nadu Governor, Chief Minister, the Cabinet, and a huge public gathering. Dr. Siva Chidambaram sang two songs on freedom, leading 1,000 children in unison. The music was composed by 'Mellisai Mannar' M. S. Viswanathan.

The Naadakkanal Organization, devoted to "Maha Kavi" Bharathiyar, awarded the title of "Nadakkanal" for his superb rendering of Bharathiyar songs.
On October 2nd, Gandhi Jayanthi Day, a special program was telecast by Doordarshan India.
The Rotary Club and Vallipuram Temple of Sri Lanka organized a felicitation function for Thiru. Sivaji Ganesan, with Dr. Siva Chidambaram as well as sons of other singers. Also in attendance were stars like Prabu, Suhasini, and Director Bharathiraja.
Member of the Selection Board, formed by Tamil Nadu Government and Tamil Nadu Iyal Isai Nataka Manram to select youth performers for Scholarship.
TAMIL ISAI SANGAM 2002:
The Tamil Isai Sangam Music Festival in December 2002 was, as usual, inaugurated by Dr. Siva Chidambaram's concert, this time in the presence of the esteemed President of India, Dr. A.P.J. Abdul Kalam.
In his speech before the concert, the President and his friend sang a song "Valamaana Naadaakuvom" written by the President. This song, giving importance to the future of the children of India and to the country as well, received a great ovation from the audience.
To everyone's pleasant surprise, especially the President's, Dr. Siva Chidambaram sang the President's song in his concert to the cheers of everyone and the praise of the President.
'TAMIL ISAI VENDHAR' DR. SIRKALI SIVA CHIDAMBARAM:
On December 26, 2002, Dr. Sirkali G. Sivachidambaram, was conferred the `Tamizhisai Vendhar' title at the inauguration of the annual music festival of the Karthik Fine Arts here today. He was also presented with a cheque for Rs. 15,000 and a silver tambura by the Minister of State for Shipping, S. Tirunavukkarasar. (See photo)
The Minister commended the sabha efforts in encouraging young artistes and recalled Dr. Siva Chidambaram's father, "Padmashri" Dr. Sirkali Govindarajan's contribution to Tamil Isai and praised him for continuing in his footsteps.
He said the award was to encourage the vocalist to propagate Tamil isai in foreign countries.
Nalli Kuppuswami Chetti said the awardee carried on his father's tradition. Flautist N. Ramani, said the Dr. Siva Chidambaram's excellent voice and his rendition of Irai Arul songs had won over his father's fans and encouraged young artistes to emulate him.
Dr. Sivachidambaram said the award had encouraged him to pursue his interests in music further.
OTHER EVENTS:

Sun News Channel recorded a special interview with Dr. Siva Chidambaram and telecast it on the eve of Tamil New Year's Day.
Dr. Siva Chidambaram has sung for a program entitled "Mudhal Idam Noki", which airs every evening on Jaya TV and shows the advancements of Tamil Nadu in many fields.
Jaya TV recorded a special Vinayakar Chathurthi Program with Dr. Siva Chidambaram's songs specially rendered with an orchestra.
STAR Vijay Channel telecast a special Navaratri concert sung by Dr. Siva Chidambaram. Dr. Siva Chidambaram sung a variety of classical pieces and Amman devotional songs.
Doordharshan (Podhigai TV) telecast a special phone-in interview "Hello Ungaludan" with Dr. Siva Chidambaram on Oct. 2nd - Gandhi Jayanthi Day, which brought new excitement and enthusiasm to the channel. DD also recorded a special Navaratri Classical Music concert by Dr. Siva Chidambaram and party.
---
DEVOTION AND SPIRITUALITY:
Dr. Siva Chidambaram's efforts in spreading the message of culture and tradition through classical and devotional music to the youth of not only India, but the World, have been appreciated by the Doyens of Hindu Religious Philosophy.
The Tamil Nadu Government appointed Dr. Siva Chidambaram as the Chairman of the Board of Trustees(1997-2000) for the Arulmigu Kapaleeswarar Karpagambal Temple, Mylapore, Madras. As a crowning moment of Dr. Siva Chidambaram's tenure, on November 28, 1999, the Vellottam (first run) of the Thanga Ther (Golden Chariot) was launched in the presence of Sri Sankara Vijayendra Saraswati Sankaraachaariya Swamigal (Sri Kanchi Kamakodi Peedam), ThavaThiru Santhalinga Ramaswamy Adigal (Perur Adheenam), and ThavaThiru Chidambara SivaGnana Swamigal (Thirupporoor Adheenam).
He is the Asthana Vidwan of the Kanchi Kamakoti Peetam--honored by Jagadguru Shri Jayendra Saraswati Swamigal at the Kumbabhishekam of the Kanchi Temple, with the blessings of Paramacharya.
Adheena Isai Pulavar of Dharmapura Adheenam, in the heartland of Tamil Nadu.
He is the 'Kunrakudi Adheena Isai Ilavarusu'.
He is the Adheena Vidwan of the Thiruvavaduthurai Adheenam and the Dharmasivachariar Mutt at Nerinjipet.
Eminent member of the Advisory Committee, Sri Thyaga Brahma Mahotsava Sabha, Thiruvaiyaru.
For the Dawning of the New Millenium, he sang at the Grand Function at the southern-most tip of India, Kanyakumari, where the statue of Sage Thiruvalluvar was unveiled in the presence of Vice President of India and Chief Minister of Tamil Nadu.
---
MEDICAL CAREER:
Dr. Siva Chidambaram has a holistic and humanitarian approach to medicine because of the music in him. It has helped him to approach any hard task such as the rigorous training of his graduate and post graduate classes of his medical school, with strength and a sense of accomplishment. He has worked hard in rural areas to spread the message of preventive and public health. He has also published many scientific research papers in Seminars and National Conferences right from his student days. His work was praised by such eminent Physicians and Surgeons such as Dr. Ratnavel Subramaniam, Dr. N. Rangabashyam, Dr. B.R. Santhanakrishnan, etc.
---
PERSONALITIES' SURMISE:

Hon. R. VENKATARAMAN, Ex-President of India: Listen to the Speech
...Hearing Siva Chidambaram sing, my memory went back to yester years when I heard young Govindarajan sing...

Dr. Rajah Sir MUTHIAH CHETTIAR:
...I am impressed by display of excellent music talent. I am sure he will make a brilliant mark as his father...

Dr. MAM. RAMASAMY, Pro-Chancellor, Annamalai University: Listen to the speech
...I sincerely feel that Sirkali will live forever in our hearts and I am confident that Dr. Siva Chidambaram will perform his duty in upkeeping his father's tradition...

Sri KRIPAANANDA VARIYAR: Listen to the speech
...Siva Chidambaram is like a grandson to me. I am happy that he has not only inherited the music, but also the humility, devotion and affection of his father...

Hon. Dr. M. G. RAMACHANDRAN: Listen to the speech
...I am so impressed by the cultural and traditional values of Dr. Sirkali Govindarajan that I told him, if I had a daughter I would have got her married to his son...

Dr. Kalaignar M. KARUNANIDHI: Listen to the speech
...It is encouraging to see Dr. Siva Chidambaram follow the footsteps of his father, we shall cherish him. When I see Siva Chidambaram sing, the memory of Thambi Sirkali brings tears to my eyes...

Thavathiru KUNDRAKUDI ADIGALAR: Listen to the speech
...Siva Chidambaram is a blessing for his father. Sirkali lives within his son, reminding me of his music, morale, and tradition...

Sri SEMMANGUDI SRINIVASA IYER: Listen to the speech
...Sirkali belongs to a rich 'guru parambarai,' dedicating his music to the Lord. Though we miss him, he has rightly trained Siva Chidambaram with his qualities in music, respect for others and humility...

Ma Po SIVAGNANAM, Tamil Scholar: Listen to the speech
...Sirkali Govindarajan has left Dr. Siva Chidambaram as his successor, qualifying him as a doctor-musician and a good family head...

Viduthalai VEERAMANI: Listen to the speech
...Perpetuating a good follower is a sign of good leadership. Sirkali did that with Siva Chidambaram calling him "Innisai Ilavarasu Varuga!" amidst us in our felicitation function. Tamils world over will revere Siva Chidambaram beyond political and other barriers...

Hon. Speaker KALIMUTHU: Listen to the speech
...Sirkali Govindarajan had great qualities of appreciating musicians, clear diction and humility. To compensate Sirkali, we have to catch (Siva) Chidambaram...

Mi Pa SOMU, Tamil Scholar: Listen to the speech
...Sirkali has handed over his musical tradition entirely to his son, which is evident by Siva Chidambaram's performance, which rings a bell when I listened with my eyes closed, with the same voice and diction. He has to be appreciated for his individual credibility and talents too...
---
CRITIC'S CORNER:

SUBBUDU:
Sirkali's style will flourish. The tonal purity, rhythmic perfection, authentic singing by Siva Chidambaram was exciting. His catering to the music lovers, the clear administration of the dais, and even more his humble nature added greatness to the memories of his father.

THE HINDU:
...His concert reminded the listeners of the extremely chaste renderings of his father. Like Sirkali, the young singer's voice was polished and saturated with devotion...

INDIAN EXPRESS:
The performance demonstrated the meticulous training from his father, and proved right the great adage--like father, like son.

SRUTHI:
It was an engaging concert, Siva Chidambaram singing with involvement and abandon, reminding one of the famous advice of the Navayogis to Raja Nimi(Srimad Bhagavatham). His alapanas, Niravals, and swaraprastharas are methodical and interesting. His compositions transported one to the different regions of the country. He is a national singer and his music, a mixture of the auspicious, joyful, and mystical.

The Arts--Reviews, INDIAN EXPRESS:
Siva Chidambaram has a stentorian voice that adheres to sruti...with metifluous flexibility his voice can prove any challenge at different sthayis...

THE HINDU:
...Flexibility of his voice was his chief aid. Siva Chidambaram had no difficulty in giving enchanting sancharas...

THE TIMES OF INDIA--DECCAN HERALD, CALCUTTA:
...He rendered compositions with intense feeling. Raga alapana was evocative and excellently interpreted. He proved his aesthetic standards for embellishments.

PARIS REVIEW, JOURNAL OF INTERNATIONAL MUSIC:
Son of the great Master 'Padmashri' Dr. Sirkali Govindarajan, Dr. Siva Chidambaram excelled himself. The emphasis on tonal clarity, clear diction, was felt all throughout. The voice range, fluency in rendering and the ornamental swaras and niravals were amazing...
---
Dr. Siva Chidambaram continues his service to Indian music and culture with the blessings of well-wishers and lovers of music. To see his latest work, please go to the updates page (www.sirkali.org).